<! -- THIS IS WHERE YOU CHANGE CONTENT -->
Mayor of the Year
Every year one Mayor is chosen for his/her outstanding accomplishments and leadership.

The 2016 Mayor of the Year is...



GERALD D. LUCIA
Mayor of Mount Pleasant Borough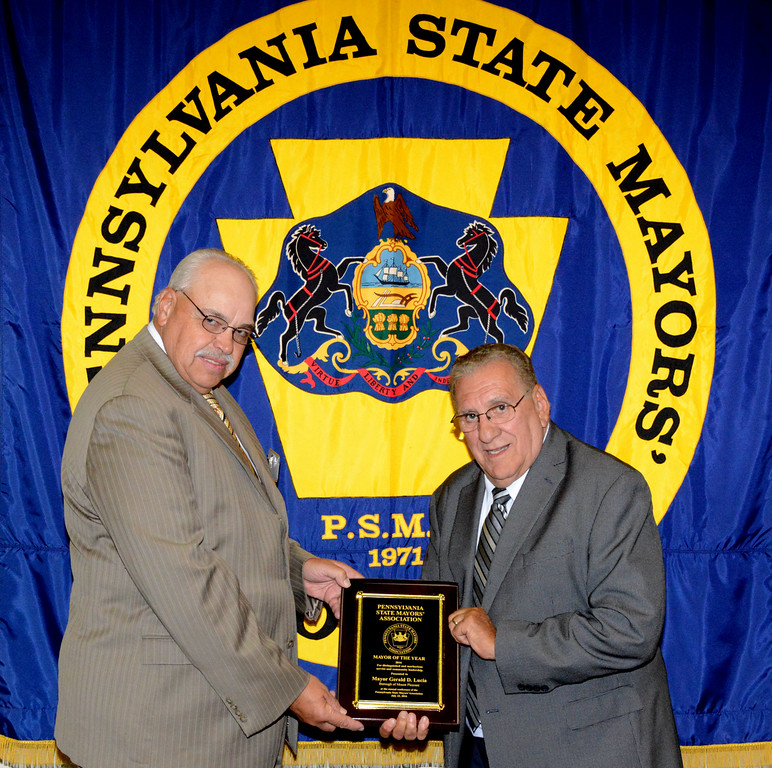 Every year, the Pennsylvania State Mayors' Association (PSMA) invites officials of the municipalities of its member Mayors to consider whether their Mayors have had a significant impact upon their communities and are worthy of the title "Mayor of the Year." Nominees are expected to be leaders in their municipalities and have extraordinary accomplishments.
The PSMA "Mayor of the Year" for 2016 is Gerald D. Lucia, who is the Mayor of Mount Pleasant Borough in Westmoreland County. A long-time resident of Mt. Pleasant, Mayor Lucia has faithfully served the residents of Mt. Pleasant for 37 years as an elected official in two capacities – 7 years as a Councilman and, for the last 30 years, as Mayor.
Mayor Lucia has been at the heart of the public safety of Mount Pleasant Borough for almost half a century.  For 42 years, he has been a member of the Mount Pleasant Fire Department serving as its Chief for 27 years.  Simultaneously, Mayor Lucia has also served as the Mount Pleasant Borough Emergency Management Coordinator.
Mount Pleasant Borough has a rich and varied civic and community life and Mayor Lucia is actively involved.  For 30 years, he has been founder and the Co-Chairman of the Mount Pleasant Glass & Ethnic Festival.  In 2002, he was a founding member of the Mount Pleasant Veterans Park Committee.  In 2003, he served as a Co-Chairman of the 175th Anniversary Committee.  He has served as a Member of the Coal & Coke Bike Trail Committee. 
Outside of Mount Pleasant, Mayor Lucia has volunteered his time and talents for a number of charitable organizations.  For eight years, Mayor Lucia has served on the Board of Directors of Excela Health Hospital and for four years on the YMCA Board.  He is a member of many nonprofit entities in and around Mount Pleasant Borough including the Emergency Management Committee of Westmoreland County; the Safety Committee for the Mount Pleasant Area School District, Mount Pleasant VFW, Falcons Club, Assunta Club, Lodge 643 of the Sons of Italy, and Pennsylvania Burial Vault Association.  In 1987 he served as President of the Westmoreland County Boroughs Association.
Mayor Lucia has made a commitment to the youth of his community.  He has coached baseball at both Little League and Pony League levels.  For 12 years he has coached a midget league football team.
Not surprisingly, Mayor Lucia has been selected as the Mount Pleasant Borough Citizen (April 2005) and Citizen of the Year (2000).  The Laurel Highlands Chamber of Commerce has bestowed upon him the distinguished "Jacob" Award.
Perhaps, Westmoreland County Commissioner Ted Kopas expressed the sentiments of the Mount Pleasant community best when he said to Mayor Lucia "You are the quintessential mayor." In his opinion, if there is something good happening in Mount Pleasant, Mayor Lucia is involved with it.
Nominating Form for the 2017 Mayor of the Year
View the previous Mayor of the Year winners
<! -- END WHERE YOU CHANGE CONTENT -->