<! -- THIS IS WHERE YOU CHANGE CONTENT -->
Mayor of the Year
Every year, the Pennsylvania State Mayors' Association (PSMA) invites officials of the municipalities of its member Mayors to consider whether their Mayors have had a significant impact upon their communities and are worthy of the title "Mayor of the Year." Nominees are expected to be leaders in their municipalities and have extraordinary accomplishments. The 2018 Mayor of the Year is..


Robert L. Kaler, III
Mayor of Hatfield Borough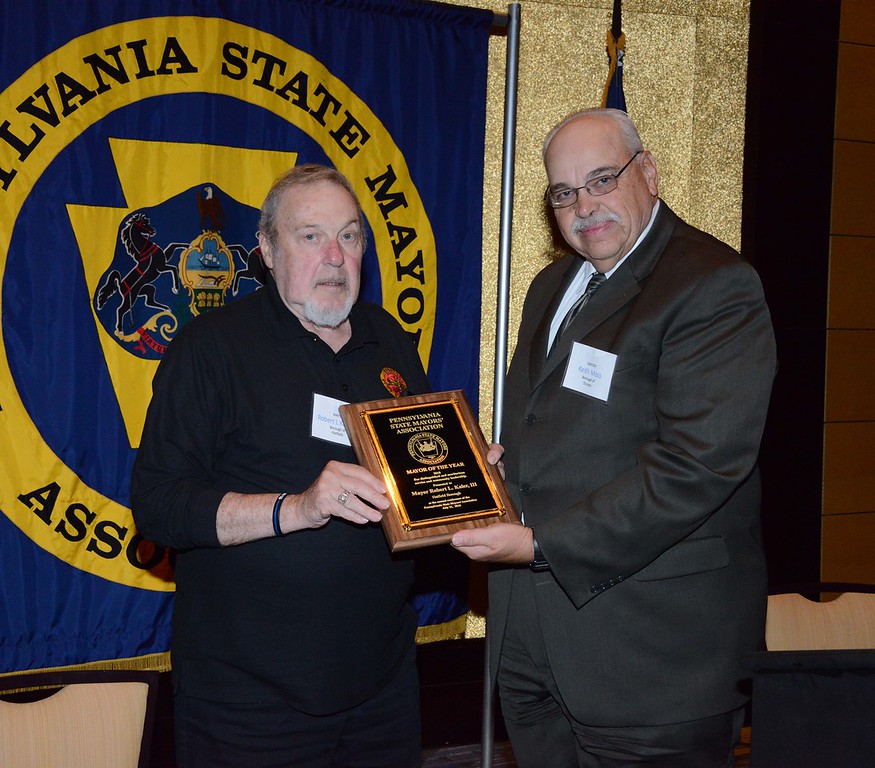 There are some Mayors whose lives are so interwoven into the fabric of their community that they become synonymous with it. Mayor Robert L. Kaler, III is one of those Mayors. He is "Mr. Hatfield Borough" and is well-deserving of the Mayor of the Year Award from the PSMA.
Mayor Bob Kaler is a life-long resident of Hatfield Borough with strong ties to the municipality's political and civic organizations. The people of Hatfield Borough have elected Mayor Kaler to several different offices over the course of his public life. Mayor Kaler is presently serving in his 15th year as Mayor. For seven years, he served as a member of the Hatfield Borough Council where he ascended to the position of President in his final year. For ten intervening years, Mayor Kaler was the Judge of Elections. It is noteworthy that the present members of Hatfield Borough Council have so much respect for Mayor Kaler's experience and judgment that they have asked him to serve as an ad hoc member of several council committees as well as the Borough's representative to outside entities such as the Northern Montgomery County Recycling Commission.
Mayor Bob Kaler has joined many civic organizations to which he has made a lifetime commitment. He is a life member of the Hatfield Volunteer Fire Company with over 60 years of service, including 14 of those years as its Fire Chief. Mayor Kaler is a life member of the Hatfield Chamber of Commerce with over 50 years of service to that business group. A charter member of the Hatfield Museum and Historical Society, Mayor Kaler has devoted over 27 years to that organization presently holding the office of Vice-President. Since 1998, Mayor Kaler participated in the annual Hatfield Founders Day and is credited with helping to build it into one of the largest annual events in Hatfield Borough. It is no wonder that in 2005, Mayor Kaler was recognized and honored with the Borough of Hatfield "Citizen of the Year Award" for his dedication and many contributions to Hatfield Borough
Faith and country are especially important to Mayor Bob Kaler. He is a lifelong member of Grace Lutheran Church where he has involved himself in all aspects of the activities of his church including serving several times on church council. As an extension of his faith, Mayor Kaler has consistently used his Borough salary to pay the utility bills of Hatfield Borough residents in need of such assistance
Mayor Kaler is a veteran of the United States Navy serving during the time of the Cuban Missile Crisis. For many years, Mayor Kaler has been an active member of the Hatfield American Legion Post 933 where he currently holds the position of Commander.
For his many accomplishments and the exemplary manner in which he has held the Office of Mayor, the PSMA calls upon all Mayors to recognize and congratulate Mayor Bob Kaler as our 2018 "Mayor of the Year."
Nominating Form for the 2019 Mayor of the Year
View the previous Mayor of the Year winners
<! -- END WHERE YOU CHANGE CONTENT -->